Outdoor Equipment Rental
Want to explore the outdoors on your own? The Outdoor Adventure and Recreation (OAR) program offers outdoor equipment you can rent for the weekend! From mountain bikes to tents, the OAR Program offers a wide variety of equipment at a subsidized cost.
OAR Center Hours
OAR Rentals are re-opened in the Orange phase, welcome back! In an effort to minimize in person contact, we have moved payment for rentals online! To pay for rental equipment, go to the Weinstein Center Portal and navigate to Outdoor Adventure tab. After payment, equipment can be picked up at the OAR desk, Monday, Wednesday, and Friday between 4pm and 6pm. All rentals are 2-day and weekend rentalsand must be returned during OAR hours.
Please continue to check our main page for more information here.
*ALL rental items MUST be picked up and dropped off during Rental Hours, Monday–Friday from 4–6 p.m. If equipment is returned outside these hours, the renter will be charged a $25.00 fee.
Some equipment rentals are subject to change. Please view our FAQ to view our current equipment rental availability.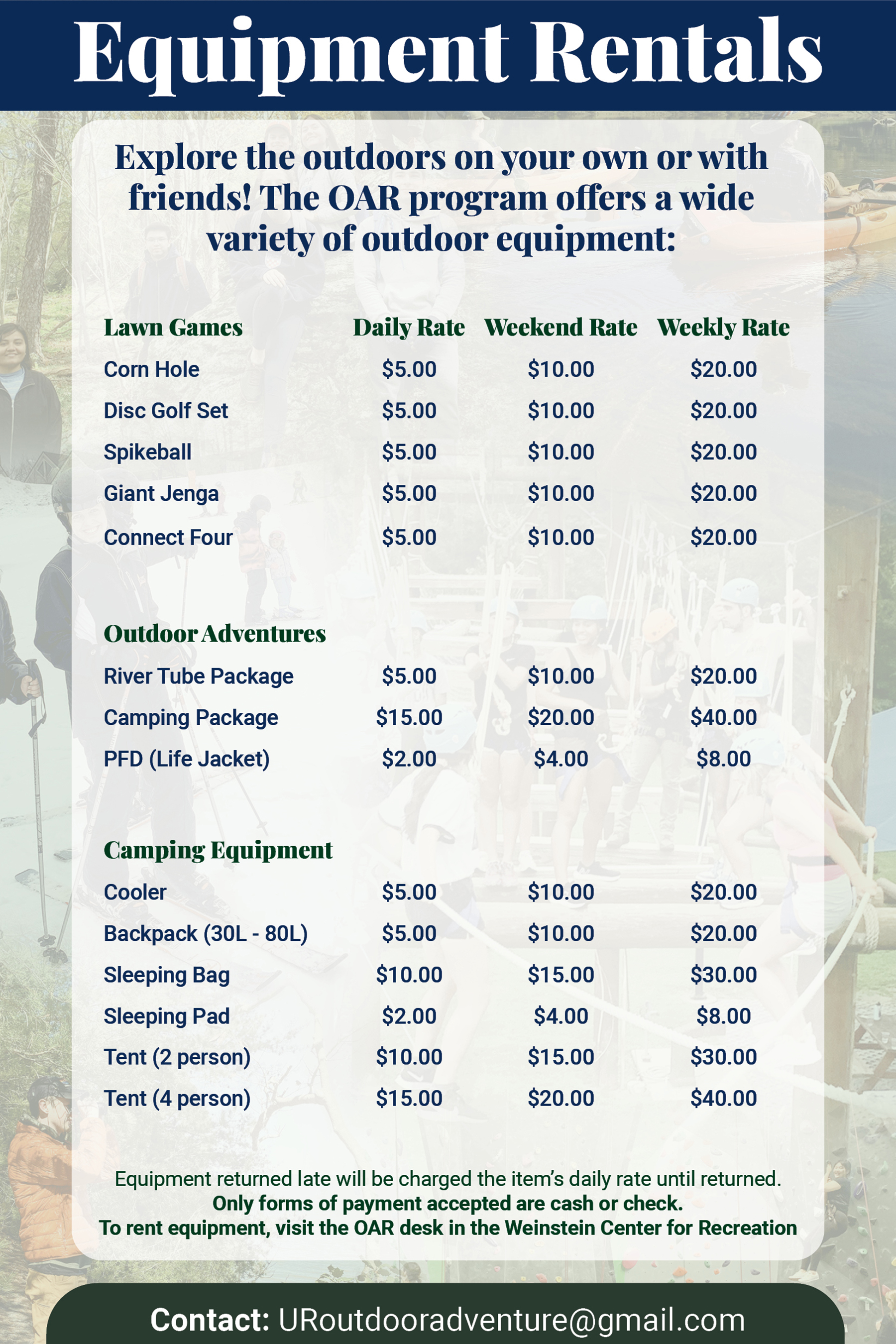 When can I rent/ and return gear?
The Outdoor Adventure and Recreation Desk is open for rentals 4:00pm-6:00pm, Monday-Friday.
Gear must also be returned to the OAR desk during operating hours (4pm-6pm, Monday thru Friday) and will not be accepted outside this time frame.
How do I pay for the equipment?
Accepted forms of payment are cash, check, Spider Card or journal voucher (Index and Account code). Payment is taken at time of rental.
How long can I rent equipment?
You can rent equipment for a 24-hour period (daily rate), a 3-day period, (weekend rate), and for a 7-day period (weeklong rate). If you need to rent equipment for longer than this period, please contact Manager of Adventure and Leadership prior.
What happens if I return equipment late?
Customer will accrue a fee of the daily rental rate for every day the equipment is late. After two weeks, customer will be liable to pay full price for the equipment item(s). This fee needs to be paid in person at Member Services.
What if I break or lose the equipment?
Customer is responsible for the full price of replacing broken, stolen, or lost rental equipment. This replacement fee needs to be paid in person at Member Services.
Who can rent?
All fulltime students, faculty, staff, and community members with a membership to the Weinstein Center for Recreation can rent OAR equipment.
Can I make reservations?
Equipment is typically rented on a first come, first served basis, but members can reserve equipment ahead of time by emailing OAR Manager or uroutdooradventure@gmail.com.
Reservations are not guaranteed and are subject to availability, trip needs, and environmental conditions.
What if I want a refund?
Refunds are only issued to renters if they received a non-functioning equipment item. This includes broken equipment or equipment missing pieces essential to the function of the item IE a tent with no tent poles. To issue a refund, renter can fill out a Refund Request Form, located on the Member Services website and submit it to the Manager of Member Services.
Environmental Considerations
WATER: If the James River Westham Gauge, is at or above 9ft the river is closed for use and we will not rent out water gear unless renter acknowledges that they plan to use the gear outside of the James River (lakes or oceans are acceptable).
BIKES: If it has rained in the past 24 hours or the trails are wet from recent rains, then the mountain bike trails are typically closed for use. Bike rentals are still offered, but we will ask renters to stay off the trails if they are wet.
What is the pricing?
We only accept Spidercard, cash, or check for any equipment rentals. For Spidercard, please check OneCard for your card balance to make sure you have sufficient funds on your acount prior to equiment purchase.  
Check out the pricing for all our Outdoor Rental Equipment below: 
| | | | |
| --- | --- | --- | --- |
| Lawn Games | Daily Rate | Weekend Rate | Week Rate |
| Corn Hole | $5.00 | $10.00 | $20.00 |
| Disc Golf | $5.00 | $10.00 | $20.00 |
| Ladder Ball | $5.00 | $10.00 | $20.00 |
| Spikeball | $5.00 | $10.00 | $20.00 |
| Volleyball | $5.00 | $10.00 | $20.00 |
| Giant Jenga | $5.00 | $10.00 | $20.00 |
| | | | |
| --- | --- | --- | --- |
| Outdoor Adventures | Daily Rate | Weekend Rate | Week Rate |
| Commuter Bike Package | $10.00 | $15.00 | $30.00 |
| Mountain Bike Package | $15.00 | $20.00 | $40.00 |
| River Tube Package | $5.00 | $10.00 | $20.00 |
| Camping Package  | $15.00 | $20.00 | $40.00 |
| PFD (Life Jacket) | $1.00 | $2.00 | $4.00 |
| | |
| --- | --- |
| Helmet | Comes with bike |
| Bike Lock | Comes with bike |
| Cam Straps | Comes with kayak package |
| | | | |
| --- | --- | --- | --- |
| Camping Equipment | Daily Rate | Weekend Rate | Week Rate |
| Cooler | $5.00 | $10.00 | $20.00 |
| Eno Hammock | $5.00 | $10.00 | $20.00 |
| Eno Stand | $10.00 | $15.00 | $30.00 |
| Hammock Camping System  | $10.00 | $15.00 | $30.00 |
| Lantern | $2.00 | $4.00 | $8.00 |
| BackPack | $5.00 | $10.00 | $20.00 |
| Sleeping Bag 0-45 degrees | $10.00 | $15.00 | $30.00 |
| Sleeping Pad | $2.00 | $4.00 | $8.00 |
| Tent (2 person) | $10.00 | $15.00 | $30.00 |
| Tent (4 person) | $15.00 | $20.00 | $40.00 |
| Tent (5+ person) | $20.00 | $25.00 | $50.00 |